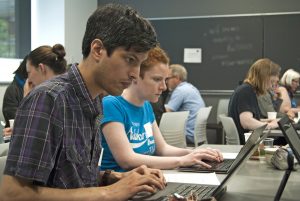 Earlier this summer, more than 20 academic and public library staff, community members, and UBC graduate students and faculty gathered at Simon Fraser University (SFU) Harbour Centre to "geek out" with a cause.Inspired by Wikipedia edit-a-thons, hackathons, and research sprints, the group came together in support of the Downtown Eastside Research Access Portal (DTES RAP), a collaborative venture of UBC Library and the UBC Learning Exchange's Making Research Accessible Initiative (MRAi), that seeks to increase open access to academic and community-based research materials for all.
Fuelled by coffee and the promise of chocolate and other products from the local community for the winning teams, groups of participants raced to add over 200 new items to the DTES RAP and described 150 existing items. The Metadata-thon demonstrated the power of the collective to advance its goals of providing a rich and diverse portal to information relevant to the DTES community, and making materials easy to locate in the collection.
The event, which took place June 12, 2019, was organized by STOREE collaborators Heather De Forest and Aleha McCauley, UBC Library and iSchool student Zachary Foote, and supported by the Community-based Research Coordinator at the UBC Learning Exchange, Heather Holroyd.
The event was successful in generating metadata and establishing timelines for DTES RAP workflows. Equally important was the impact on the participants, who appreciated the opportunity to think more deeply about the role of research and "metadata in action". One participant asked, "Are we considering that persons who have been the subject of research are part of our user community, and…how they would want to access those materials?" MRAi aims to address these important questions with the upcoming launch of the newly designed DTES RAP. Stay tuned for more.